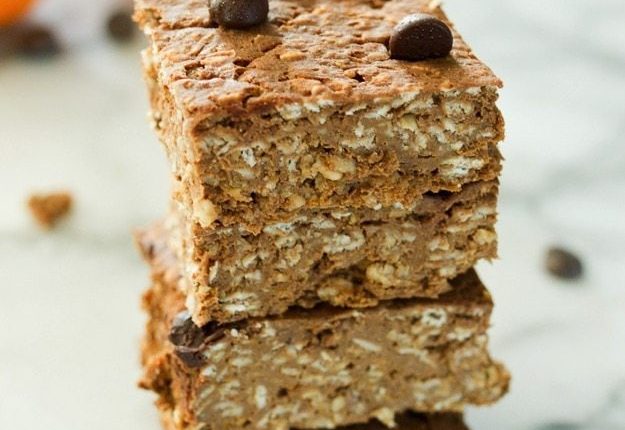 These protein bars are great for a quick breakfast or even a pre-workout snack! 
Ingredients
1 cup rolled or quick oats

1 cup vanilla protein powder (vegan, if needed)

1 teaspoon baking powder

1 teaspoon baking soda

½ teaspoon salt

1 Tablespoon pumpkin pie spice

1/4 cup maple syrup

1 cup canned pumpkin

½ cup unsweetened vanilla almond milk (or other non-dairy milk)

1–2 Tablespoons dairy-free chocolate chips
Instructions
Preheat oven to 350°F. Spray a 8×8 baking dish with non-stick spray or line with parchment paper.

Stir together the dry ingredients including oats, protein powder, baking powder, baking soda, salt and pumpkin pie spice. In a separate bowl, combine the wet ingredients including the maple syrup, pumpkin and almond milk.

Gently stir the dry mixture into the wet ingredients and stir until well combined.

Spread batter evenly into the prepared dish, sprinkle on a few dark chocolate chips and bake for about 20 minutes or until a toothpick come out clean.

Bars keep best if stored in the refrigerator.
Enjoy!!
*Recipe Source: https://www.eatingbirdfood.com/pumpkin-protein-bars-vegan-gluten-free/
We Help People Over 40 Get Into To Shape & Live Their Best Lives Through Fitness. Learn more about our 30-Day Personal Training Experience by clicking the button below….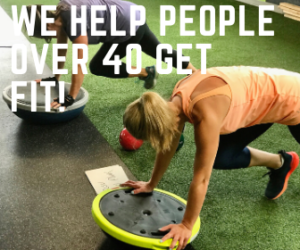 Try our 30-Day Personal Training Experience For ONLY $97!
Download our FREE eBook "The FA40 Fitness Plan" TODAY!